Executive Director: This email address is being protected from spambots. You need JavaScript enabled to view it.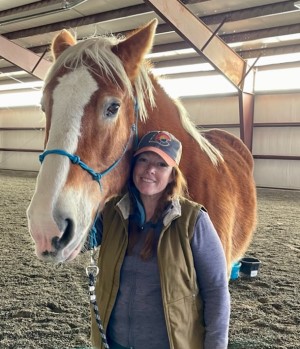 Mary Beth Chismarich, M.D. grew up on a farm near St. Louis, Missouri. She loved doctoring all the livestock on the farm and debated human vs veterinary medicine during her childhood, but eventually her love of children led her to medical school at the University of Missouri-Columbia. She completed her pediatrics residency at Kosair Children's Hospital in Louisville, KY. After completing residency, she returned to St. Louis and worked at Mercy Hospital in the Pediatric Emergency Department and Pediatric ICU. She then completed a fellowship in Pediatric and Hospice and Palliative Care and started the Pediatric Palliative Care Program at Mercy Hospital. Mary Beth also served as the Medical Director for the Children's Home Society and as the treasurer for a local non-profit. Shortly after an unexpected early medical retirement, Mary Beth's husband, Stephen, received a job offer in the Denver area so they packed up their 4 children who were still at home and moved to Parker in May of 2021. Mary Beth began looking for ways to serve her community and keep busy and started volunteering at Praying Hands Ranch. She fell in love from the first day and has been very excited to become more involved in ensuring the mission of PHR continues to expand and thrive. She especially enjoys the days her husband and 4 children living in CO are all on the ranch with her. It is such a rewarding way to spend time together. PHR has been a wonderful way for Mary Beth to combine her farming, medical and non-profit backgrounds and she looks forward to continuing to serve PHR and the local community.
Volunteer Coordinator: This email address is being protected from spambots. You need JavaScript enabled to view it.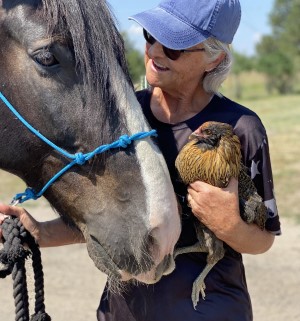 Lisa Uhlig is a professional volunteer. She always loved animals growing up and wanted to be a vet, but allergies prevented that. She became an RN and worked 10 years as a nurse. She then stayed home to raise her kids and began her volunteering career. She started a MOPS group at her church, volunteered in her daughter's schools, and when her kids were older, she discovered she was outgrowing her allergies. She started raising service dogs for Canine Companions (
www.canine.org
) She is now on her 10th puppy to raise. Her vet was also a puppy raiser and she jokingly told him she was going to work for him when he opened a new office. That led to her taking dog grooming classes and she groomed for 5 years for him. When her two daughters were grown, she & her husband decided to move to the country! Just 5 minutes from Praying Hands, she finally got her application in to volunteer and she has been here for since 2019. Lisa began as our Volunteer Liaison in February 2022 and has now assumed the role of Volunteer Coordinator in September 2022 working on scheduling, orientation, retention and Social media. She loves working with our clients and our critters and is happy her allergies are not interfering! She is so happy with all the positive changes we've been putting into place and is excited to see where things go in the future.
Instructor: This email address is being protected from spambots. You need JavaScript enabled to view it.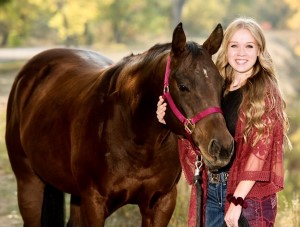 Jewels Deaver has been a Certified Therapeutic Riding Instructor (CRTI) at Praying Hands Ranch since February 2021. Jewels has been riding horses since she was about 9 years old and bought her heart horse, Rosalie, when she was only 11 years old. Jewels has done various different types of riding competitions with her horse Rosalie, such as Western Pleasure and Cow Sorting. She spent time training 2 year old horses and teaching riding lessons during her summers off from school. Jewels received a Bachelor's degree in Psychology with minors in Sociology and Gender Studies from the University of Northern Colorado. She has worked as a Behavioral Health Worker at a women's Intensive Addiction center and Early Childhood Therapist at Firefly Autism, before coming to Praying Hands Ranch. Jewels has a passion for working with individuals with special needs and aspires to help her clients achieve their ambitions at PHR.
Instructor: This email address is being protected from spambots. You need JavaScript enabled to view it.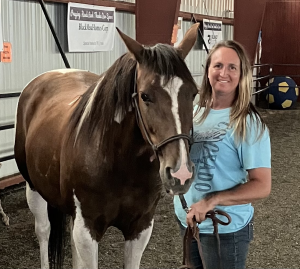 Heather Purvis is a CTRI PATH instructor and a qualified PATH mentor for Praying Hands Ranch with prior experience running her own business, Diamonds Therapeutic Riding, in Arvada, Co. She is currently a certified CTRI mentor qualified to oversee others getting their teaching hours. She has been a riding instructor for over 20 years. Heather spent time jumping horses as a USEF member and is a United States Pony Club alumni. In recent years she enjoys NCHA cutting competitions with her horse, Jewel. Heather loves assisting people with special needs and since she has been a healthcare worker, her professions cross into Equine Assisted Therapy helping clients at PHR live their dreams.
Web and IT Support: This email address is being protected from spambots. You need JavaScript enabled to view it.
Lynn has joined Praying Hands Ranch to provide IT and Web support. Lynn spent 37 years working for the Federal Government working jobs from system administrator, web and application developer, analyst, and more. Lynn retired in 2019 and is doing volunteer web work for PHR and the Elizabeth Stampede. She has already started providing PHR a variety of applications to track volunteer hours, clients, horse usage, and multiple behind the screen applications to provide the front office with tracking tools needed for taxes or for Path Certification and is working on maintaining a new website to provide current information for our customers.
Rounding out our team:
Sharilyn Hanson - front desk
Ernest - Barn Lead
Cade - Barn Help