Adaptive Riding Lessons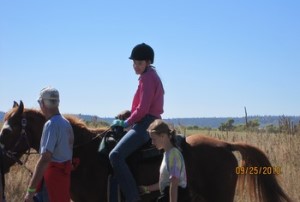 For a person with a disability, life looks a great deal brighter on horseback. The warmth and movement of the horse strengthens, and tones muscles, improves balance, head control, and coordination, builds self-esteem and offers a sense of freedom. Goals and lessons are planned individually by riding instructors, clients', and caregivers. Our instructors evaluate riders progress throughout the session and make adjustments as needed. Clients have fun while they achieve relaxation, physical and mental growth, and improved auditory and visual abilities. For clients who require additional support up to 3 trained volunteers serve as sidewalkers and horse leaders.
Hippotherapy
We currently offer a limited number of hippotherapy sessions which combine a board certified and licensed Occupations Therapist (OT) and a PATH certified riding instructor. Our Hippotherapy sessions allow clients to work on specific task-oriented goals. The goal of hippotherapy is to use the horse's movement to promote functional improvements in sensory, neuromotor, and cognitive functioning. Hippotherapy is often combined with traditional office-based PT or OT. The services of the OT are billed to insurance, but the facility fee is often not covered by medical insurance. The facility fee is covered by SLS or CES waivers. We hope to expand our Hippotherapy availability to include more OT sessions and PT sessions.
Praying Hands Ranch Now Serves Spanish Speaking Families
Praying Hands Ranch is pleased to announce that we are able to assist Spanish speaking families who may be interested in equine therapeutic riding.
El Rancho Praying Hands Provee Servicios a Familias Que Hablen Espanol
El Rancho Praying Hands tiene el gusto de annuciar que podemos asistir a las familias que hablan espanol que pueden ser interesadas en el montar a caballo terapeutico equino.
Por mas de veinte anos, El Rancho Praying Hands (PHR) ha trabajado para resolver las necesidades de ninos y adultos perjudicados en un ambiente terapeutico del rancho. Los instructores estan certificados por la PATH Intl.). Las edades de los clientes se extienden a partir de 24 meses a 60 anos. Servimos a todos los clientes perjudicados que han sido aprobados por sumedico para participar enterapeutico equino del PHR (llame por favor ala oficina del PHR para las formas y la informacion medicas).
Inabilitados incluyen, pero no limitadosa: Paralisis cerebral, Spina fifido, Autism, inhabilitado emociionalmente, Sindrome Downs, haber perjudicado multiple, Hydrocephalic, esclerosis multiple, danos de cerebro, y movimiento.
Par mas informacion con respecto a nuestros programas o la ayuda con el proceso del registro del cliente anticipado, entre en contacto por favor con el rancho en 303-841-4043 or This email address is being protected from spambots. You need JavaScript enabled to view it. , o para informacion o asistencia en espanol entre en contacto con la voluntaria de PHR Elizabeth Killebrew en 303-504-9848 o This email address is being protected from spambots. You need JavaScript enabled to view it..
---
General Information
Our first class of the day starts at 10:00 AM. Our last class starts at 5:30 PM.
Adaptive Riding Lessons are 60 minutes long, however not all that time is mounted. Clients may spend time grooming and tacking the horse and sharing bonding time. The amount of mounted time is also adjusted as needed for ability to maintain a safe "seat" on the horse. Mounted time may vary from one lesson to the next, with a goal of increasing time on horseback as lessons progress. If clients demonstrate unsafe behavior while mounted, they will be dismounted for safety.
We offer private (one client-$65 per lesson), semi-private (two clients-$60 per lesson), or group (three clients-$50 per lesson). The actual cost of each lesson is over $200 and PHR provides an automatic scholarship to each client to cover the difference with grants, fundraising and donations.
Each client is matched individually with an equine partner by our PATH Intl. instructors. We typically like first time clients, especially those who are new to riding, to start with an in-person evaluation with an instructor.
Our therapeutic riding sessions are typically eight weeks long and are held four times a year-Winter, Spring, Summer and Fall. There is a 5 week mini session in November and December which allows for Thanksgiving and Winter breaks. The exact dates are listed under the Session Dates tab. We typically have a 2 week break between sessions to allow for makeup lessons (these are offered if PHR cancels a lesson) and to allow time for training and maintenance.
Please note, due to PATH Intl. guidelines, riders must be over the age of two years old. All riders must have paperwork completed by their physician clearing them for therapeutic riding prior to starting lessons.
For comfort and safety riders should wear sturdy shoes with a low heel, if possible and long pants made from non-slippery fabric. An ASTM/SEI or equivalent riding helmet must be worn at all times. We prefer that each client provide their own helmet, but please let us know if that is not possible.
For more information regarding our programs or assistance with the prospective client registration process, please contact PHR at 303-841-4043, or email us at This email address is being protected from spambots. You need JavaScript enabled to view it..