Become a Volunteer | Volunteer Scheduler Pro | Class Schedule | Volunteer of the Month | Horse Handling Guidelines
Volunteer Orientation
We will have Volunteer Orientation on Mondays September 25 and October 9 & 23 at 11:00.
This will be an orientation to the volunteer opportunities at PHR only. After orientation if you are interested in volunteering during our adaptive riding lessons we will review our openings and schedule training for you. If you are interested in other volunteer positions you will not need to schedule training and we can discuss your availability. Please visit our
Become A Volunteer Page
for signing up as a potential volunteer and to sign up for orientation.
"The benefits of volunteering are instantaneous!
The childrens' smiles and giggles warm my heart, and remind me of why I'm here."
"I always get more than I give.
If you want to do something wonderful for yourself, come be a volunteer!"
Anyone 16 years and older can be a Praying Hands Ranch Volunteer or donate in the following areas:
Office Work
Fundraising
Event Planning
Grant writing
Equine programs
Sensory gardens
Small animal care
We love to train volunteers! You do not need any horse experience to become volunteer-just an open heart and mind. Here are some personal benefits you may gain when volunteering at Praying Hands Ranch:
A strong sense of accomplishment
An intimate bond between rider, volunteer, and horse
The joy of making new friends
Involvement with enthusiastic, unselfish, totally dedicated and committed volunteers
Learning new skills
Making a difference in the lives of others
Volunteers see first-hand how the riders blossom and grow!
Praying Hands Ranch currently needs volunteers for all class times. Classes are held Monday, Tuesday, Wednesday, and Saturday.
Contact us at This email address is being protected from spambots. You need JavaScript enabled to view it.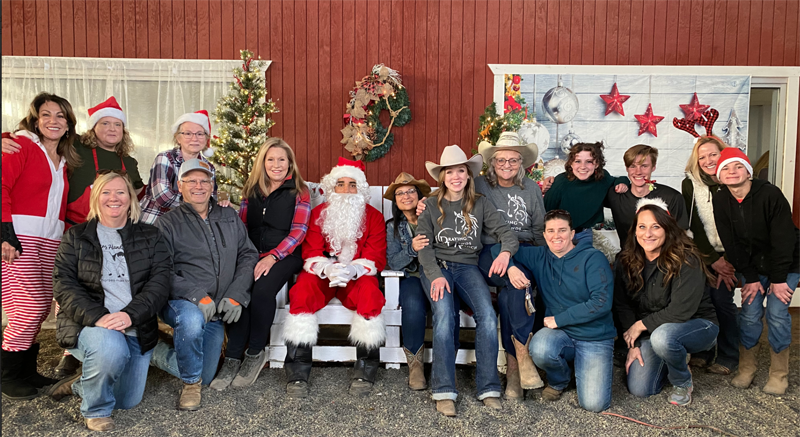 Thanks for all our volunteers who made "Holiday with Horses" a success!