Volunteer of the Year: Dr. Mary Beth Chismarich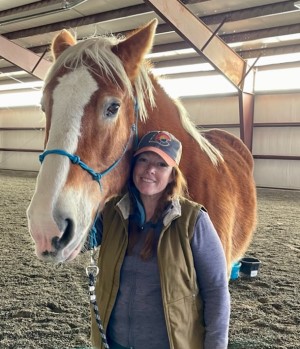 We are past due for recognizing our Volunteer of the Year! We are very pleased to honor Dr. Mary Beth Chismarich. Yes, our Executive Director is a volunteer!

Mary Beth Chismarich, M.D. grew up on a farm near St. Louis, Missouri. She loved doctoring all the livestock on the farm and debated human vs veterinary medicine during her childhood, but eventually her love of children led her to medical school at the University of Missouri-Columbia. She completed her pediatrics residency at Kosair Children's Hospital in Louisville, KY. After completing residency, she returned to St. Louis and worked at Mercy Hospital in the Pediatric Emergency Department and Pediatric ICU. She then completed a fellowship in Pediatric and Hospice and Palliative Care and started the Pediatric Palliative Care Program at Mercy Hospital. Mary Beth also served as the Medical Director for the Children's Home Society and as the treasurer for a local non-profit. Shortly after an unexpected early medical retirement, Mary Beth's husband, Stephen, received a job offer in the Denver area so they packed up their 4 children who were still at home and moved to Parker in May of 2021. Mary Beth began looking for ways to serve her community and keep busy and started volunteering at Praying Hands Ranch.

One of our instructors at the time saw the leadership and experience Mary Beth had to offer and suggested her for the board. The full board too saw that and made her the Acting Director. When our beloved Shirley passed away, Mary Beth became our Executive Director.

Mary Beth is honored to be our volunteer of the year. She says "I fell in love from the first day and I am very excited to ensure the mission of PHR so it can continue to expand and thrive."

Mary Beth, Thank you from all of us at Praying Hands. We are blessed to have you as the leader of our team and we look forward to working with you for a very long time!
July 2022: Mykhe (or Mike)
Join us in congratulating our July Volunteer of the Month! Mykhe (or Mike) and his family moved to the United States over a year ago from the Ukraine. At his orientation Mike was worried he wouldn't be busy enough! So we put him to work with Earnest, and he is keeping busy! His work ethic is so admirable.
He is pictured with one of our newer horses Rocky, one of his favorites.
Thank you Mike for all you contribute to Praying Hands Ranch. You are a true blessing!





June 2022: Kirk and Sharilyn
This month we are celebrating TWO volunteers of the month! Sharilyn & Kirk!
"We were initially drawn to PHR because it offered us the opportunity for hands on volunteer work with special needs children and adults. It was an added bonus that our volunteer work included working with horses. As time went on we realized PHR offers more than we initially thought. It is a place where clients, volunteers, and horses are treated with dignity and respect. It is a safe place in this troubled world. It is a family. I have always been fond of Paints, probably because I grew up watching the t.v. show Ponderosa. So, I would have to say Dancer has my heart. My husband is especially fond of Rooster. But big or small, we love them all."
Thank you Sharilyn & Kirk for your love and dedication! We are blessed to have you here!





May 2022: Katie Moore
Katie Moore is our May 2022 Volunteer of the month.
Katie has been volunteering at PHR for 3 years now. She had an aunt with special needs, and she loved horses. Through her aunt Katie saw firsthand what a difference the relationship with a horse made in her aunt's quality of life. Katie says "Being at PHR reminds me of her, and I love being able to see the joy the horses bring to the clients and the things they can accomplish together." Her favorite horse at PHR is Blue. "He always takes great care of his riders!"
Katie you are truly a blessing to Praying Hands!


April 2022: Doreen
Doreen has been volunteering at Praying Hands Ranch for about two years. Her favorite horses are Preacher and Diamond. She loves working with our clients and has loved learning so much about horses.
Thank you Doreen for your dedication to Praying Hands Ranch!